Customer Comments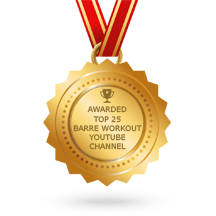 Read some more indepth reviews on the following sites:
---
Rochelle ~ I have been an avid gym goer for over 15 years and always loved exercise and pushing myself. After wanting to start mixing up my workout routines and being able to do it in the comfort of my own home I started searching on line for some workout DVDs. I found a number of different workouts, some sold by Linda's store, but when I discovered her very own unique Barlates Body Blitz range I was like a kid in a candy store! In only a matter of weeks I have purchased over 30 of them and I am excited to do them every time as they are all very different, extremely challenging and offer a great variety for all shapes, fitness levels and sizes. For those who think working out at home won't push you as hard as at the gym, I can absolutely attest to Linda's workouts (and I would consider myself to be quite fit and strong already), but they certainly provide options if you're starting out. Great to mix and match with longer workouts, or the shorter ones still leave you feeling as though you increased your strength and fitness.
The real beauty of dealing with Linda and her online store is that she is only too happy to assist you, guide you in the direction of what you're wanting to achieve and clearly has extensive experience and expertise in the exercise and nutrition field. She is a pleasure to deal with and more of a pleasure to work out to! I can't recommend highly enough
---
Brooke ~ I began your workouts 14 weeks ago. I'm a very active person and enjoyed varying intensities of cardio and strength training. I was looking for something to keep me from getting bored, and ended up finding something I am extremely passionate about- Barlates! Your workouts are always fun and extremely challenging. I love how you explain form clearly, and you are very encouraging throughout. Your personality shines and that's so refreshing during a difficult workout!
In regards to results, I have seen huge improvements in both strength and flexibility. For instance, before Barlates I could only do half pushups, and I constantly strived to be able to do a full pushup. As of last week, I can officially do full pushups! I also notice pushing myself to the end of each round of an exercise (whether I'm doing strength, cardio, or Barlates), when in the past I would have tapered off. My strength gains have helped me in my every day life as well as my various workouts.
I have also seen some changes in my appearance. I have lost the "bulk" from strength training, and noticed the longer, leaner muscles you talk about. I can honestly say, this is the most confident I have been with my body. It is not perfect, and I don't ever expect that : ) But I know with your help, I will continue to see changes in appearance and strength.
Thank you for everything you do Linda! You're the best.
Before- Wearing Purple Sports Bra (right)
Current- Wearing Black Sports Bra (left)
Update: Hi Linda! I wanted to let you know how *much* you have helped my upper body strength and tone. Most importantly, your workouts helped me overcome 2 injuries- a partially dislocated shoulder as well as my elbow wouldn't track correctly with heavy weights and I was getting a pinched nerve (causing my hand to feel like it was asleep). The picture in the purple sports bra is before and was taken right before my injury. When I injured myself, I took two months off because I feared hurting myself again. I lost a ton of strength and my injured arm was much weaker than my other arm. In this before pic I could do no full pushups of any kind.
Now that I've transitioned to your workouts, where I never use over 3 lbs per hand, my arms have equal strength and I am so much stronger than with heavy weights and I feel better. The blue and green sports bra is my after, and I have been able to gain all of my muscle back that I had prior to the injury. Not only that, I am so much stronger. Now I can do full, single leg full, and most recently full tricep pushups (the most dreaded for me lol). I just wanted to let you know what a big deal this is for me and that your workouts were what helped me! Thanks so much.
Before- Purple Sports Bra
After- Blue and Green Sports Bra
---
Stacey ~ Love this simple series of exercises for an intense burn! This past fall, I spent some time in Central America, where I wasn't eating or exercising the same as I typically do. As soon as we got back home, we packed our house up and moved, which caused me to further neglect my typical self-care habits for a while. I've been working out to your videos pretty consistently for probably close to a year now, but these past several weeks, I've really been serious about kicking back into gear after my mini "lapse" in the fall. Your workouts (in particular the lower body ones, which tend to address my "problem areas") have helped me tremendously to very quickly get back into shape. I so look forward to my Barlates time every day (except for Sundays, that's when I rest
) and the results are real!
---
Jen ~ Your core routines have given this 36 year old mom of two young children, obliques. I never imagined that would happen! More importantly than aesthetics , and the real reason I come back to your workouts again and again, is the strength I have developed. I am a runner. Running is my passion and I am not new to fitness. Your routines challenge me and I love it. Your total body strength workouts are some of my favorites of yours because of the strength, balance, coordination and stamina it takes to finish. actually, I could say the same of all your workouts. The tiny little muscles you challenge have helped my running because all those stabilizing muscles are so much stronger now.
Thank you again for your hard work , positive attitude and quality workouts.
---
Norma ~ I've been working out for many years and this is the first time I'm seeing results and pretty quickly because of your workouts!
---
Alexandra Vavro ~ I've been doing your workouts for several months now. About the workouts, I enjoy doing them for several reasons. They are varied. You incorporate a mat, light weights, bands, chairs, etc. This means that one cannot become bored. Not only that but the workouts target all types of muscles big and small.
Also, there are stretching exercises which are helpful too for those who have tighter muscles. One other thing I like is the timing. I feel I have completed a great workout within 20-30 minutes. I feel like I worked hard, yet I'm not sick to my stomach for pushing myself so hard and I'm totally ok with that because I know I worked out well.
About results, my goal right now is consistency being able to keep myself active and being able to exercise regularly, minimum 3 times per week, so I haven't been measuring or weighing myself. However, besides some muscle pain the next couple of days after a workout, I feel my body feels firmer and stronger. I noticed that the workouts have a lot of balance exercises. This is definitely my weakness, so what I noticed is that my balance is improving. This to me indicates that I am gaining more control over my body/muscles so I guess it's getting stronger.
Lastly, what I appreciate about barlates is the instructor, you, Linda. You have a nice encouraging tone to your voice. I like how you explain all the moves even when you are doing the moves yourself. You choose your words healthily, and overall, I feel that you are genuine with the viewers. Thank you!
---
Lena Voets
~
big fan from Germany here. Found your Youtube Channel last year and
changed my workout (Vinyasa and Power Yoga as well as some crossfit
and HIIT) completely. I always had trouble gaining muscles and losing
weight (guess as most women complain about). Well, after just a few
weeks with your YouTube Videos I could see my biceps more and more -
first time of my life. I have had always back issues, they're getting
totally better now. (Of Course yoga always helped, too. But I reckon
it's just plateauing your body after a while).
Well, so I thought I just wanted to say "Thank you" for investing your time and energy on the Barlates Project and providing it for everyone in the whole world. You seem to be a very balanced and friendly Person – thats a motivation, too.
---
Griselda Hernandez ~ I am really glad and lucky I have found barlates workouts. Linda has been a blessing with her exercise and fitness approach, she is a very good instructor and her workout are not only effective but also fun and creative time flies by when I am working out with her workout, I am always challenged. I definitely keep her workout in my rotation. Thank you Linda
---
Toni Searles ~ I stumbled onto barlates videos when my local barre studio closed their doors here in Orlando Florida. I was immediately hooked! Linda's videos are an amazing resource for sculpting and toning exercises. I absolutely love Barlates! Linda's depth of knowledge is evident in all her exercises! Thank you Linda!!!!
---
Wastob4me youtube ~ Your workouts are literally CHANGING my body!! At 42 and mother of 3, I was getting "round" but along with some changes to my eating habits and doing mostly pilates, barre and your barlates workouts my legs are amazing, my butt is booming and you can actually see my abs!!! I'm a bellydancer and even my movements look different although I do have to alter my costumes. Your workouts are TOUGH and hurt so good. Thank you!!!!!
---
Margaret Raudonikis ~ I have been incorporating Barlates workouts into my exercise regime for some time now. I am really excited about Barlates because since I have been doing it many of my other exercise sessions have become easier. I think it is because Barlates works so many of those smaller muscles not worked in other programmes, so I have become so much stronger by doing it.
Barlates is challenging but it is fun. I really enjoy creating my own workout by stringing a few of the programmes together, so I have collected most of the workouts so far. On other days when time is short it is easy to fit one or two into a busy day.
Most of the workouts have lots of reps to really streamline and tone the muscles. In some workouts the use of weights can intensify the workout or heavier weights can advance it even further.
Barlates is a little different to other exercise programmes. It incorporates Pilates, Yoga, Barre, Callenetics Ballet and probably other styles. It uses weights, barre, balls,broomsticks and resistance bands. It is never boring.. There are usually ways to modify it and ways to advance it.. You can definitely feel your muscles burn in most of the exercises.
I have spin,neck and neurological problems and even though I have used exercise to help strengthen and rehabilitate my body, I have always found myself very prone to injuries.since doing Barlates I have become stronger and the incidence of injuries has dramatically decreased.
Linda keeps coming up with more innovative, creative workouts using a variety of aids. I always enjoy the different routines and will definitely keep doing Barlates because it in creases strength and fitness and changes the shape of your body, creating long lean muscles. It has enhanced my life and increased my energy. I can't get enough of it. I love it.
---
Alia Ashton
~
Linda's workouts are challenging and if you are like me and enjoy ballet and dance they are a perfect combo- highly recommended. Her commentary is positive and motivating excellent for people who are quite fit already and looking for a workout to give you long lean definition.
---
Kiona Collins ~ I have been using Barlates workouts since the beginning of 2014. Prior to this I was a huge gym junkie and focused a lot on heavy weight lifting. In Sep 2013 I gave birth to my baby and after a traumatic time I was left with Long thoracic nerve palsy in my left shoulder.
I needed some good workouts I could do from home as my time was limited and my shoulder was causing me huge pain and discomfort. I purchased some Barlates workouts and I have never looked back. These fusion style workouts are nothing like traditional heavy weight lifting. The burn and strength I experience from doing these high rep/low weights are amazing. Not only has Barlates helped strengthen my shoulder (which is around a 2 year recovery) my muscles have lengthened and elongated into a toned feminine body and it's all achievable in the comfort of my home without huge heavy weights.
What I love mostly about Barlates is they are never boring and you can always make the workout harder by adding more weight/resistance. I am guaranteed to be sore after these workouts and I love to mix them up so I get a full body workout. Thank you Linda for creating such wonderful and challenging workouts.
---
Suzi Collins ~ My first impressions of Barlates: It's an intense but succinct workout which works all the areas we women want to! I like the light weights and short, intense exercises. I've learnt since my first session to push harder as the workout goes quickly and each section works a different body part so can always rest soon! I love working out barefoot with the feminine movements too! Can't wait for my longer leaner body!
I have been doing Barlates workouts throughout my third pregnancy and have found them to be a wonderful way to continue my training, fitness and keep toned. I love the fact that I can select particular body parts to work out depending on what I feel needs work that particular day with my ever-changing body! It is great that I can choose low-impact routines and still get excellent results without having to jump around (which obviously becomes increasingly difficult as the pregnancy progresses).
I love this fusion of barre and pilates-based training. I have previously practised barre, pilates, yoga and traditional gym classes such as Pump but particularly like Barlates as I can select specific areas to workout. Depending on my day and how much time I have to train, I can choose a twenty minute workout or put two half-hour workouts together and either way I still feel and see the results! The shape of my muscles on my legs and arms have definitely become longer and leaner since practising Barlates. It's amazing that I can still achieve these results, even on lazy days when I'll choose a workout I can do mainly on the mat lying down!
Laura McKenzie ~ I was sore from the workout last week. Mainly bum and inner thighs which was great! First impression was great. Different for me as I'm used to dance workouts that are counted to music but I liked that you go with what feels right. Listening to the body more and I guess you can see when we're really fatigued too. Loved the intensity of it – you're straight into it after the first 10 seconds. But you get a welcome break from the balance/ strength sections which are challenging in their own way. Thought it was a great combination of cardio/ strength, balance.
READ WHAT PEOPLE ARE SAYING ABOUT WORKOUT DVD WORLD:
"Accurate description. Fast delivery." Buyer: nicad1308
"DVD in A1 condition fast posting" Buyer: 02brookeau
"Great dvd, very happy" Buyer: ilona100770
"GREAT SELLER AAAA" Buyer: robsmeman
"Fast postage Great item Thanks ****" Buyer: janetd3327
"Thanks.. Fast postage" Buyer: chanbrazier
"Very Fast Shipping" Buyer: 6627greg
"Fast postage, thankyou." Buyer: speedygsxr
"Good to deal with, very happy" Buyer: fred502
"Fast postage Great item Would recomment Seller Thanks ****" Buyer: janetd3327
"DVD in A1 condition thankyou fast posting " Buyer: 02brookeau
"Fast postage, great transaction A++" Buyer: hazie09
"Satisfied customer!!" Buyer: twisted01au
"Product as described, lightning fast shipping, good communication." Buyer: yippee_vickie
"Quick to send, thanks so much. Cheers, Tina" Buyer: bubbles_mum