So what is the 10 Minute Solution? It is a revolutionary workout DVD series, which has 5 different ten minute workouts on each DVD. Tne punchline is that "everyone can find at least 10 minutes in their day." Each of the five segments is a mini-workout in itself so you can do them individually, or mix-and-match the segments to create a custom workout. If you are up for it you could even do all five in one go for an incredible 50-minute workout routine!
The 10 minute Solution range has something for everyone. There are fat burning DVDs, dance style workouts, strength training DVDs, Pilates, Yoga and everything in between. The workouts are short, but effective and offer you differing levels so that any fitness level can tackle them. There are various instructors so if you prefer one you can buy the whole series of her dvds.
The great news about the 10 minute solution is that it really is a great solution for people leading a busy lifestyle where taking time out to go to the gym is just not going to happen. You can do 10 minutes in the morning, 10 minutes at lunch time, 10 minutes in the afternoon or evening and in no time you will have found your 30 minutes of recommended daily activity!
Customer Reviews:
10 minute Solution Fat Blasting Dance Mix: Jennifer Galardi is an outgoing and motivating instructor and she makes you feel like you're having fun and actually happy to be exercising. You can buy this workout already on other online sites and I've had it for a week now and I'm really enjoying it.
Three of the 10 minute segments are aerobic and one is butt and thigh and the last segment is an ab workout. The cardio ones are challenging but short (which I guess is good if you are wanting to get fit or increase fitness rather than maintain fitness). Obviously you can do all together or mix and match. The way the dvd is set up, you can arrange to play them in any order. The routines are all very dancy but yet not tricky and so this is very fun to do.
I recommend this if you are wanting to boost your fitness, but if you are fit already, you may not find this challenging enough. It's cued very well and enjoyable to do. Jennifer is a good instructor…(Amazon customer)
10 Minute Solution Pilates: I dread exercising – but it is an important priority for me because of a health condition. I am in love with all the 10 minute solutions workout videos – especially this one. Laura is easy to follow along, she gives instructions in a clear precise manner. She is encouraging throughout the workout. The workouts themselves are completely manageable since the 50 minutes of workouts are broken down into 5 10 minute sessions. If you only have 10 minutes – just do 1 or you can do all 5 for a fantastic workout. I alternate between the various 10 minute solutions videos to get my workouts in each week. I always get an excellent workout and I have seen very positive results on my abs and stomach…Many (Amazon customer)
Here's a sneak peek of one of 10 Minute Solution Pilates DVD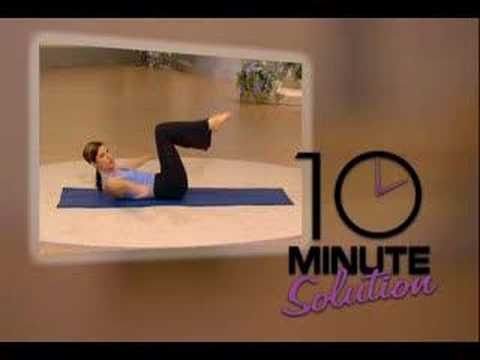 If you like the sound of 10 Minute Solution, then click HERE to browse my range!