BILLY BLANKS TAE BO – THE ULTIMATE KICKBOXING WORKOUT DVDS
7-time Martial Arts Champion Billy Blanks, invented Tae Bo in the 1980s. Tae Bo is a combination of Taekwondo and Boxing. It is a high-powered, high-energy, exhilarating style of workout, which will help you attain a toned and sculpted body, strengthen your core, burn fat, and increase your overall fitness level to give you a total body workout.
The great thing about tae bo is that it is not only a cardiovascular workout, but also offers a lot of toning and strengthening. Once you have mastered the signature moves they are repeated in various combinations, so it is not a difficult style of workout to follow. Overall it is an awesome fat-burning workout and, if Billy himself is anything to go by, he looks fabulous even in his 60s.
Over the years Billy Blanks has released many workout DVDs and is still adding to his collection as we speak. The signature moves haven't changed a lot, although he has incorporated various pieces of specialized workout equipment such as the Billy resistance Bands, 1 pound hand weights and the Amped weighted bar.
I personally have tried nearly every on of the Tae Bo workouts and I have a large variety in my personal workout DVD collection. Billy Blanks is a great instructor, in that he is very motivational and not too perfect. The music in all his DVDs is always up beat and the group of people he teaches always come in all shapes, sizes and ages.
If you are just getting started with Tae Bo one of the DVDs I would recommend is Tae Bo Get Celebrity Fit Sculpt, Cardio and Ab Bootcamp. This is an awesome DVD, which contains 3 full length workouts and doesn't require any additional equipment. These workouts are guaranteed to get your working up a sweat and burning tons of calories. As you become more familiar with the moves you can increase the intensity by adding some light hand weights to punch with.
Here's the back cover text & clip for each workout:
Get Celebrity Fit Sculpt is how your favorite celebrities get in shape. In this heart-pounding total body workout you ll have fun sculpting and toning your whole body using multiple moves like jumping jacks with jabs at an accelerated pace.
Running Time: 44 mins
Get Celebrity Fit Cardio is the workout Billy uses to get his celebrity clients, movie stars and athletes into top physical condition. Using Billy's highly-effective punches, kicks and other moves, you'll get your heart pumping and sweat out the calories while you attain fitness levels you have always dreamed of. Have fun as you get fit like the stars! Running time: 43 mins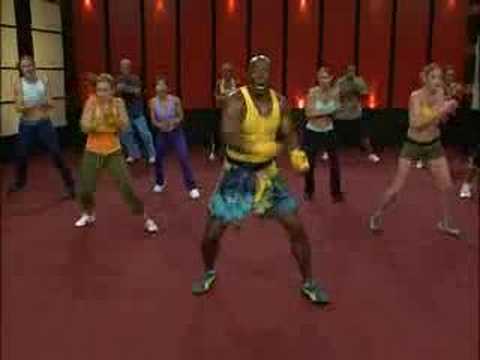 Ab Bootcamp:
How many times have you looked int he mirror and wanted to flatten and trim down that stomach? Billy created a new approach that attacks belly fat with target moves to give that head-turning stomach and waist you've always wanted. Running Time: 35 mins
Check out my whole range of Billy Blanks Boot Camp workouts HERE!